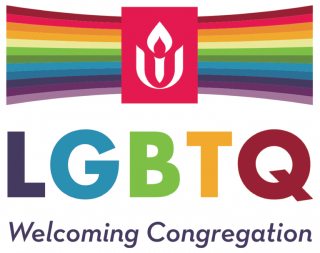 UUCD is a Welcoming Congregation
We extend a warm welcome to members of the lesbian, gay, bi, transgender, and queer communities, and to those who may be questioning. Our first principle, respect for the worth and dignity of every person, means every person regardless of sexual orientation or gender identity.
What to expect from a welcoming congregation:
Includes and addresses the needs of LGBTQ+ people in all aspects of congregational life.
Celebrates diversity and makes space to treat all LGBTQ+ people with respect and dignity.
Fully incorporates the experience of LGBTQ+ people throughout all programs including spiritual and religious education.
Engages in outreach to the LGBTQ+ community by actively supporting and partnering with LGBTQ-affirming groups.
Affirms and celebrates LGBTQ+ issues and history throughout the year.
Speaks out when the rights of LGBTQ+ people are at risk.
Gender and our sexuality are inherent to our worth and dignity. All of who we are contributes to the expression of our self. Denying in part any aspect of our self, not only creates a potentially flawed self-image, but impacts our ability to express our true selves. Denial of any part of our self-expression potentially creates flaws, issues, and long-lasting negative impacts to our mental, emotional, and physical health impeding our joy to life.
As a Welcoming Congregation, UUCD expressly opens it arms regardless of where anyone identifies on the gender and sexual spectrum. We openly discuss LGBTQ+ issues. We celebrate all the joys and rituals of life without regard to gender identity or sexual expression, and we explicitly celebrate LGBTQ+ holidays.
This Welcoming Congregation:
celebrates Pride by putting a booth and walking in the parade in Dover during Delaware Pride,
delivers worship services on LGBTQ+ issues, holidays, and content,
educates ourselves in LGBTQ+ life, literature, issues, and politics,
actively donates to LGBTQ+ causes and organizations.
Find more information from the greater Unitarian Universalist organization at https://www.uua.org/lgbtq