Welcome to the Unitarian Universalists of Central Delaware
Greetings, and welcome to the Unitarian Universalists of Central Delaware (UUCD). If you are new to Unitarian Universalism (UU), you are in for a real adventure. If you know a little (or a lot) about UU's, this will be somewhat familiar territory.
We were chartered in 2009; but we come out of a long progressive tradition of freethinking, responsible people who take very seriously growing as spiritual beings. We are a small group, but value enthusiastically sharing our time energy and talent. We invite you to get to know us by joining us in our virtual services.
UUCD is a Welcoming Congregation. We expressly open our arms regardless of where you identify on the gender and sexual spectrum. Learn more.
---
Next Sunday's Service – December 10, 10:00 a.m.
Surviving Storms – Rev. Kim D. Wilson
When storms come and upend our lives, there are three questions we are called upon to ask ourselves, according to the writer and spiritual teacher Mark Nepo: What needs to be repaired? What needs to be reimagined? And what needs to be dismantled? Sometimes, when the storm clouds have parted, we may see that the path before us has been cleared in ways we never imagined.
This service will be conducted both in-person and, concurrently, in a Zoom meeting.  Please email uucdcontact@gmail.com for information about joining us in the Zoom meeting.
---
What Do We Believe?
It is difficult to briefly describe the complexity and diversity of our spiritual community.  That's because we are more about supporting and engaging each other on our own individual spiritual journeys, than on making truth claims or seeking conformity.  It is often said that we are more interested in a good discussion, than in agreement.  So rather than being about a belief system, we are about personal freedom and personal responsibility.  We each have the personal freedom to search for our own understanding.  With that comes the personal responsibility to follow through on that quest.  In the words of retired UU minister Richard Gilbert, we: 'provide tools for building a theology based on the materials of our individual life experiences.'
So if you are looking for a spiritual home which:
welcomes you as you are,
celebrates the human condition as it is,
challenges us to explore the meanings of our lives, and the commitments which give it purpose,
encourages us to ask questions about our understanding of the sacred and divine,
engages with us in the answers we find,
offers the support of a caring community, and
provides us with a safe place to discover more about ourselves;
then come and join us.  We gather on Sunday mornings to celebrate life.
If you are interested in joining our mailing list or learning more, please contact us!
For more about our denomination's beliefs, principles, and history, please check our page About Unitarian Universalism.
---
Our Minister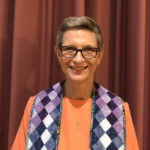 UUCD has a new minister – Rev. Kim D. Wilson!  Rev. Kim is a lifelong UU and has been a UU minister since 2001. She has served a few congregations as well as hospital and youth chaplain. Rev. Kim has worked with the UUA and UUMA in various roles. She retired earlier this year from her last congregation and discovered that she missed ministry too much to stay retired.  We believe Rev. Kim will be an excellent fit for UUCD.  
Please check the Our Minister page for more information about Rev. Kim.
Minister's Column
Rev. Kim writes a regular column addressing issues of social justice, community, personal growth, spiritual practices – and more. Click here to explore the current and past columns.