Welcome to the Unitarian Universalists of Central Delaware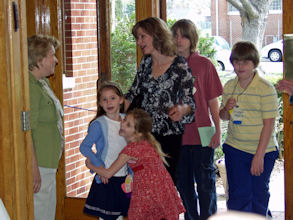 We are a new congregation, bringing Unitarian Universalism to the Dover area.
If you are unfamiliar with Unitarian Universalism, you will experience a wide range of spiritual and intellectual thinking and a variety of relevant and interesting topics. We are warm and welcoming and enjoy introducing visitors to our diverse and liberal faith.
We extend a special welcome to UUs who are new to the area. Your experience and knowledge can help us grow.
If you are interested in joining our mailing list or learning more, please contact us!
What Do We Believe?
We affirm the worth of each individual, honor the democratic process, and respect individual freedom of belief and free faith which is inherent in the Unitarian Universalist heritage and its seven basic principles. For more about our denomination's beliefs, principles, and history, please check our page About Unitarian Universalism.
Next Sunday's Service
Sundays in July will be times of gathering, not formal services.
July 22 – Racing Extinction
We will be showing the 2015 documentary, Racing Extinction. Using state-of-the-art equipment, an Academy Award®- winning film crew attempts to change how we understand endangered species and mass extinctions. Racing Extinction is an eco-thriller that examines mankind's role in mass extinction. Academy Award-winning documentary filmmaker Louie Psihoyos joins scientists, environmentalists, artists, and engineers to draw attention to this pressing issue.
The documentary is 94 minutes long so we will be stopping briefly at 11 to allow those who wish to leave to do so, and resuming to complete the film.  We hope you will join us.