Welcome to the Unitarian Universalists of Central Delaware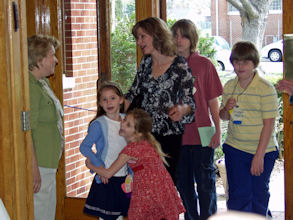 We are a new congregation, bringing Unitarian Universalism to the Dover area.
If you are unfamiliar with Unitarian Universalism, you will experience a wide range of spiritual and intellectual thinking and a variety of relevant and interesting topics. We are warm and welcoming and enjoy introducing visitors to our diverse and liberal faith.
We extend a special welcome to UUs who are new to the area. Your experience and knowledge can help us grow.
If you are interested in joining our mailing list or learning more, please contact us!
What Do We Believe?
We affirm the worth of each individual, honor the democratic process, and respect individual freedom of belief and free faith which is inherent in the Unitarian Universalist heritage and its seven basic principles. For more about our denomination's beliefs, principles, and history, please check our page About Unitarian Universalism.
Next Sunday's Service
January 13  
Cancelled due to the weather.
The Meritocracy Myth: Hoarding the American Dream – Jack Guerin
This sermon will review the growing literature on inequality and lack of economic mobility in the United States. The current level of extreme inequality is not sustainable and historically leads to economic depression, war, and political crisis. Fingers often point at the top 1% or .1% as the cause of the problem, but the upper middle class, variously defined as the top 10% or 20%, is building a glass floor under their children, guaranteeing hereditary benefits, and closing the door on the hopes of others. Where is the dividing line between ambitious striving and the theft of opportunity, and what can be done to diffuse a future crisis?