Welcome to the Unitarian Universalists of Central Delaware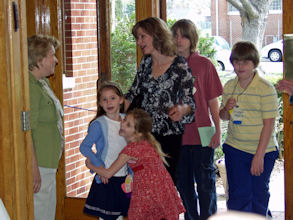 We are a new congregation, bringing Unitarian Universalism to the Dover area.
If you are unfamiliar with Unitarian Universalism, you will experience a wide range of spiritual and intellectual thinking and a variety of relevant and interesting topics. We are warm and welcoming and enjoy introducing visitors to our diverse and liberal faith.
We extend a special welcome to UUs who are new to the area. Your experience and knowledge can help us grow.
If you are interested in joining our mailing list or learning more, please contact us!
What Do We Believe?
We affirm the worth of each individual, honor the democratic process, and respect individual freedom of belief and free faith which is inherent in the Unitarian Universalist heritage and its seven basic principles. For more about our denomination's beliefs, principles, and history, please check our page About Unitarian Universalism.
Next Sunday's Service
December 23:  "In Celebration of the Solstice" – Rev. Chute
As the season turns we are all invited to quietly reflect on the cycles of our lives; where we have been, where we are, and where we are going.
December 24: Christmas Eve Service, 7:00PM – Rev. Chute
Join us for story telling, caroling, and rejoicing on this magical/mystical evening when all things are possible.